Here is what class attendees are saying…

"I attended the 7-week Kickstart course and am amazed of what I learnt and of the results I have achieved (weight gone down and I eat now lots of pasta). It is a life changing course, very interesting and the recipes are easy to make and reproduce at home. I would definitely recommend it for all interested in health and wellbeing and who would like to get the shape they want without restricted diets (which make one depressed and don't work at the end). Farrah is very nice, full of enthusiasm and of tips to help out. A great teacher and a lovely girl." -Samantha P., London, UK

"I attended the 7-session program called "Kickstart Your Health." It is a fantastic experience that changed the way I am cooking and eating. Week after week I experimented with a lot of different recipes, both yummy and healthy. I am now much more creative with vegan cooking, including baking, nobody can resist a quick and healthy vegan chocolate brownie ;) As well, PCRM videos are really interesting and focus on nutrition. What is very good with this program is that you can implement scientific facts to practical cooking. Farrah is a great teacher, very inspiring and she is finding solutions to save time, money and cook according to personal tastes. I would definitely recommend this class to anybody interested in healthy plant based cooking." -Pantxika O., London, UK
---
This is a testimonial video on how 'Using Foods against Menstrual Pain' can help:
This testimonial is given by Syra who is 21 years old and for the last two years she had been suffering debilitating period pains that prevented her from leading a normal life, from going to work:

"I used to be scared of my own period, it used to wake me during the night and I used to cry because it was extremely painful, I couldn't move. I used to have to take very strong painkillers because nothing else would work."

Syra even tried on recommendation of her doctor the conceptive pill which didn't work for her. They did send her for a scan that came back 'all clear'. They were going to send her for further testing.
"I tried on your advice, something different and it was changing my diet. I found out how foods work in your body in a very easy to understand way and that made me comprehend that it is very easy to change your habits and to change your life."
After four cycles of following a Low-Fat, Low-GI and Plant-Based diet based on PCRM's four food group: Beans & Grains, Fruits & Vegetables this was the result:
"With this food change every single month it was so different to the last one, it was getting less and less painful every time and at some point I just get my period and it just surprised me because usually you feel it coming, at this point it just surprised me, it was so normal, no pain at all involved, it just surprised me and I'm like okay, I've got my period. I feel like a woman, now I get my period and I celebrate being a woman. It's been lovely, a life changing experience. Now I forget about my period most of the time. I wish that when I was in pain someone would have told me there's another way and there's something you can do."
Click here for YouTube video link:
http://youtu.be/NOobfgPx6y4
You can follow Syra here:
www.instagram.com/syradominguez
(The cute little dog seeking our attention in the background is called Ziggy and you can find out more about him here:
www.twitter.com/tobyandziggy
)
You can find the full article at: http://www.pcrm.org/health/health-topics/using-foods-against-menstrual-pain
Thank you for watching our video and thank you to Syra for sharing her experience with all the other women out there.
I heart you!
---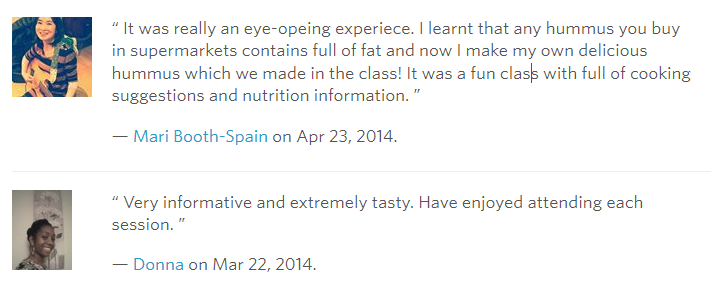 ---
---
Please see:
www.pcrm.org/successstories
for further PCRM client testimonials for some of the life-changing outcomes of Food for Life classes.